Top FAQ's
Q: My package has arrived at Connected USA and Connected UK Shipping Centre, why is it still not reflected in my account?
A:Please allow 1-2 working days for Connected USA and UK to process your shipment upon arrival at the Connected shipping centre.
---
Q:I can't find my Connected parcel listed in 'My Shopping' on the Connected website. What should I do?
A:If you cannot see your package, please click 'Can't find my package' at the bottom of 'My Shopping'. Enter the merchant tracking number that was issued to you by the US merchant during checkout. If you do not have a merchant tracking number, please contact the US merchant for further assistance.
---
Q: Why am I unable to ship Samsung Galaxy Note 7 Smartphone?
A: With the recent global recall due to safety issues over its battery, Samsung Galaxy Note 7 Smartphone will not be allowed for shipping until further notice.
---
Q: Where can I find out about my personalized addresses?
A: You can find all your personalized address in your account, under the 'My Addresses' tab.
---
Q: Do you have repacking services?
A: Yes, repacking services are provided for packages that have a difference of more than 2kg between the actual and volumetric weight. To see how volumetric weight is calculated, please click here. This keeps your shipping costs down

This service is available for USA and the UK at a charge of QAR 15.00 per package.

Repacking will not be done if the safety of the packages is compromised.

You may also refer to our Repacking FAQs for more information.
---
Q: Are there any tips to reduce the shipping fee? (e.g. consolidation etc.)
A: When your package reaches our facility in US or UK we will measure and weigh the package to calculate the volumetric and actual weight of the package. As per freight industry practice, the chargeable weight of a package is calculated based on volumetric or actual weight, whichever is higher.

Volumetric weight of a package is a calculation that reveals the density of a package. A less dense package generally occupies more volume of space compared to its actual.

Volumetric weight = [length(cm) x breadth(cm) x height(cm) ] / 5,000cm

Minimum chargeable weight is 1kg and subsequent weight step is 0.1kg thereafter.

You can advise your merchant to ensure proper packaging and pack your purchase into the smallest possible box.

In addition, you can consolidate your shipping charges by paying them together. As such, only a single base shipping charge is billed.
---
Q: If I have more than one item, are you going to repack them all in one package?
A: No, we do not consolidate items since this can cause problems in case an item is damaged or lost.
---
Q: What methods of payment are acceptable for Connected shipping charges?
A: Currently, the following modes of payment are available:

• Credit Cards (Visa/Master)

Please ensure that you have made the necessary arrangements for any of the above payment modes before using Connected Shipping Services.
---
Q: Can I ship a bulky item (e.g. washing machine)? Do you have any restriction in terms of size (height & weight) of the package?
A: We have maximum dimensions which can ship through Connected.

They are as follows:

Connected USA Air Freight
Minimum size: none
Maximum Length: 150cm
Maximum dimensions: 300cm (2 x width + 2 x height)
Packages that exceed the maximum length measurement cannot be shipped

Connected UK Air Freight
Minimum Size: N/A
Maximum Size: 150 cm
Maximum length plus girth (2W + 2H) must not exceed 300 cm
Packages that exceed the maximum length measurement cannot be shipped.
---
Q: How long will the shipment take?
A: We will endeavor to deliver your item(s) within 5 to 8 working days from the date of payment.
---
Q: Can I store my package at your warehouse for 1-2 months? Is there any corresponding fee and how much?
A: Connected will hold the package for 21 days from processed date without charge. However, when packages are held for more than 21 days from processed date, it is chargeable at the rate of QAR 5.50 per package per day.

Connected also reserves the right to dispose the package which is more than 30 days from the processed/declaration date.
---
Q: What is custom charges?
A: Goods imported into Qatar may be subject to customs duties. If you have a customs duty to pay, we will notify you when your goods arrive in Qatar. You will have a variety of options to pay including on delivery or on collection at one of our branches. It will not be possible to collect an item with customs duty to pay from one of our parcel lockers.
---
Q: Do I have to opt in for Connected Care?
A: No, Connected Care is optional.
---
Q: What is the difference between FedEx SmartPost and UPS SurePost and how does this affects my US packages?
A: FedEx SmartPost and UPS SurePost are domestic package delivery services offered in conjunction with United States Postal Service (USPS) for packages delivered locally in USA. For merchants that use either of these services, you will be provided with either one of the tracking numbers in use by FedEx/UPS or USPS. For FedEx SmartPost, almost all of these packages will only have the USPS tracking number. For UPS SurePost, they will usually provide a UPS tracking number.

In the event that your packages are delivered by your merchants using either of these 2 services, please use the USPS tracking number to search for your package or when submitting an enquiry to us.

Please see below image for an example on how to get your USPS tracking number for UPS SurePost packages: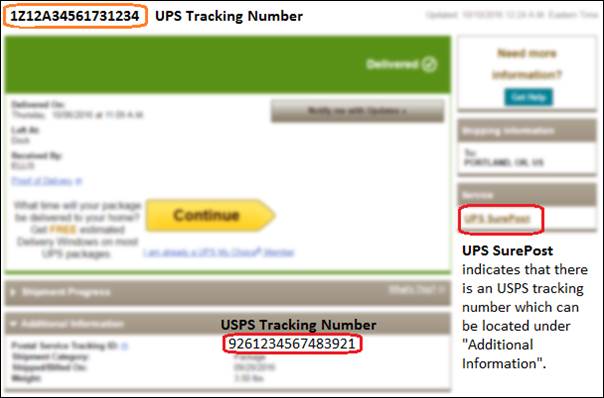 ---